The Eva G. Farris Art Gallery is located in the Benedictine Library on the Crestview Hills, Ky., campus of Thomas More University. Initially created to enrich the liberal arts experience at the University, the Gallery has become a leader in exhibiting local, regional, and national contemporary artists and is one of the premier University galleries in Northern Kentucky.
For more information about current exhibitions, gallery talks, and lectures or if you are an artist interested in exhibiting in the gallery, please contact the Gallery Director Elizabeth Neal.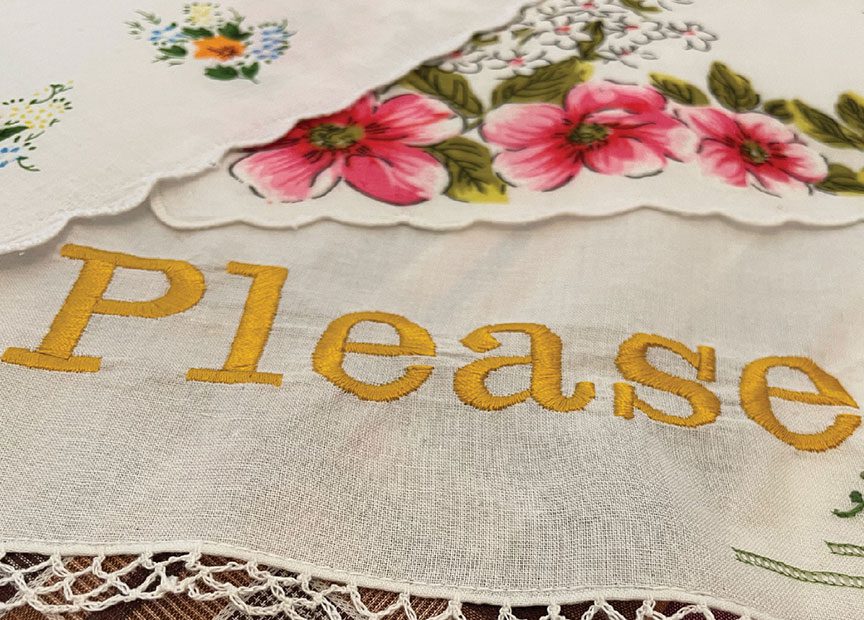 ---
Reverent Boundaries by artist Carol Grape
Show is open Aug. 15 – Sept. 8, 2022
Gallery Talk: Aug. 18, 3:30 – 4 p.m. | Opening Reception: Aug. 18, 4 – 7 p.m.
rev·er·ent /ˈrev(ə)rənt/ adjective: feeling or showing deep and solemn respect

bound·a·ry /ˈbound(ə)rē/ noun: boundaries [plural]: unofficial rules about what should not be done; limits that define acceptable behavior
Artist Statement: The humble handkerchief has been tied to human history for centuries…some say handkerchiefs made their first appearance as early as the first century. Their history spans continents, traditions, and human development from surrender in war, to rituals, to fashion, to the mundane. They were everywhere as an accessory in the early 20th century and had become a necessary part of everyday life for men and women, young and old. Handkerchiefs served the very practical purpose of taking care of everything from sniffles to sneezes, to cleaning up messes.
The advent of World War I and the onset of the influenza pandemic of 1918 transformed the daily use of the handkerchief. In September of 1918, public health officials urged the public to use their hankies as cloth shields when coughing or sneezing. At that time, gauze masks were expensive to buy and uncomfortable to wear. The cheap and easily-washed handkerchief was a ready substitute to assist in keeping a population healthy.
Historically pandemics have altered the rules of civility. The pandemic of 1918 transformed the common practice of spitting in public into a vulgarity no longer generally accepted. The conventions of etiquette have evolved throughout history. What is considered polite behavior changes over time. COVID-19 brought the abandonment of handshakes and hugs as well as the expansion of personal space in public to six feet. Before the pandemic, any of these actions would have been considered rude. With the onset of the pandemic, they became such a necessity that failure to comply was often considered impolite.
The pandemic of 1918 urged the use of hankies as the means of stopping the spread of a deadly disease. Today the face mask has become the new hanky. Throughout history, conventions of civility have dictated a set of rules and codes of behavior and defined the social norms. Despite the constant change, whether we are in agreement or not, it is comforting to have a road map of boundaries. Reverence is the hopeful outcome.
_____________________________________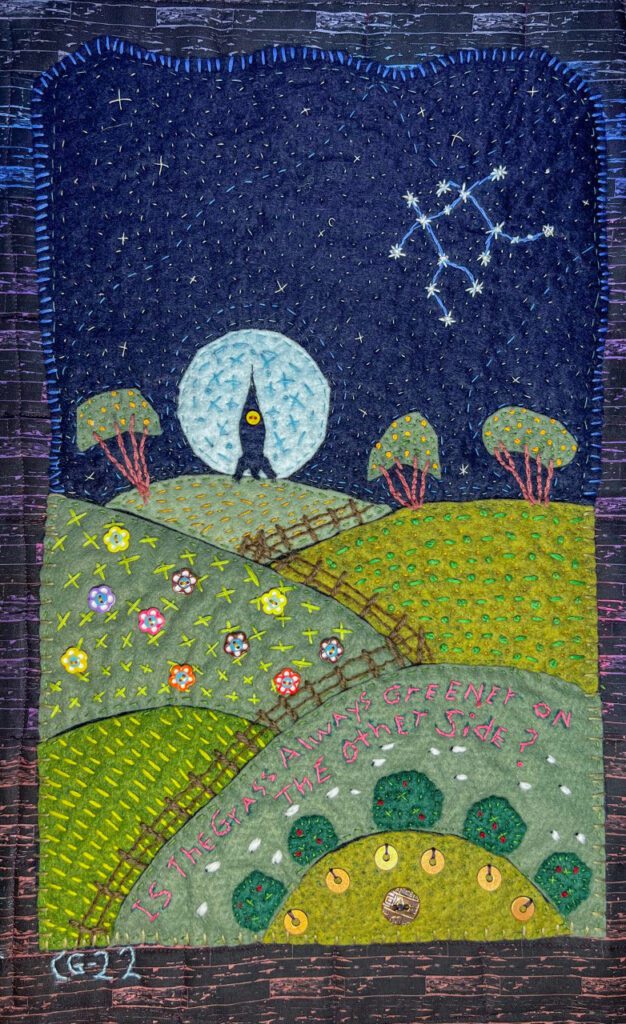 The Madness in My Head by artist William "Cody" Goodin '84
Show is open Sept. 15 – Oct. 3, 2022
Gallery Talk: Sept. 15, 3:30 – 4 p.m. | Opening Reception: Sept 15, 4 – 7 p.m.
Artist Statement: The art-making process has been a developing story since I can remember. My earliest memories are of creating mud pies and twig and leaf sculptures as a tiny tyke, then advancing to simple stitched dolls and stuffed animals under the careful direction of my grandmother. My insatiable curiosity and constantly asking "What if?" fueled my creative impulses. The experience of art school and the aftermath of a traumatic childhood began to give purpose to my art making. As a visually-impaired queer person, I was relentlessly bullied growing up. To add insult to injury, I lost both of my parents at an early age.
My current art practice is a culmination of years of creating bits and pieces of my own inner world. It was this inner world that became my sanctuary, my healing space. This world ultimately became known as Codyland. I explore the various characters and places in my world through a series of textile collages, illustrations and soft sculpture. I will state that I am not an artist who creates intellectually conceptual work. My creative work is purely heart and imagination driven.
The incorporation of hand stitching symbolizes the purposeful connections being made between each of the elements. The stitch medium is its own language, which helps me express both connection and memory. The repetitive stitching becomes my meditation and thus begins a new layer of my healing process. My hope is that by sharing my work, the viewer can feel safe enough to allow their inner child out to play, to be curious and to find their own healing space. So I welcome you to the madness in my head. I hope you can stay a spell.
_____________________________________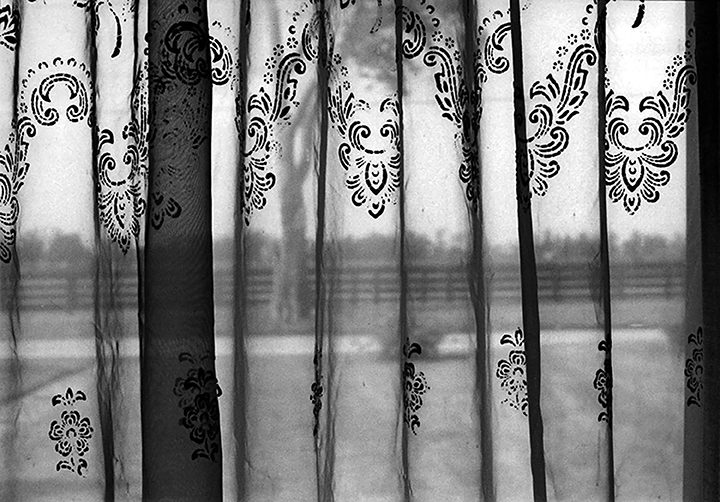 Homeplace by artist Sarah Hoskins
Show is open Oct. 13 – Nov. 3, 2022
Gallery Talk (Science Lecture Hall): Oct. 13, 3 – 4 p.m. | Opening Reception: Oct. 13, 4 – 7 p.m.
The HomePlace by artist Sarah Hoskins, presented in the Eva G. Farris Art Gallery at Thomas More University, is part of the 2022 FotoFocus Biennial.
Artist's statement: Twenty-two years ago, I began what I thought would be strictly a documentary project, it turned into something else along the way. My life became intertwined with those in the communities I was photographing. They became my friends, my family. Back in 2003, a photography publication did an article on me and included my statement that I was not an objective observer. That still holds true. Especially here. The Homeplace is comfort. The place you can go back to no matter how many years have passed. It will always hold something familiar, something safe, and will always welcome you back, no matter how long or why you have been away, with open arms.
In the decade after the Civil War, small African American settlements sprang up around the horse farms in Kentucky's Inner Bluegrass Region. These villages, or hamlets, as they have come to be known, were originally inhabited by freed slaves who were needed to work on the area farms. Today, many of the residents are descendants of the freed men and women who founded them. In some cases, as many as seven generations of a family have lived in succession on a "homeplace" in these communities.
The residents did much more than endure and survive negative circumstances; they rose above them and thrived. This work is a tribute to the residents of these hamlets, a salute to the elders who learned of slavery at their grandparent's knees and endured the Jim Crow south. Who lived 'separate but equal' and saw the decades of milestones and their impacts, including desegregation, social segregation, and the election of Barack Obama. From the hopes and dreams of Obama to the newly installed security cameras on most of the country churches. This is a story about survival in spite of everything.
To learn more about Fotofocus, visit fotofocus.org | To learn more about Sarah Hoskins artwork, visit sarahhoskins.com.
_____________________________________
2022 Juried High School Exhibition
Show is open Nov. 14 – Dec. 2, 2022
Opening Reception: Nov. 14, 4 – 7 p.m. | Awards Presentation: 6 p.m. in the Gallery

_____________________________________
Gallery History
On June 21, 2007, Thomas More University unveiled the naming of the new Art Gallery as the "Eva G. Farris Art Gallery."
"For some individuals, giving of their time and resources comes naturally. Eva Farris is one of these special individuals," said Sister Margaret Stallmeyer, former president of Thomas More University. "She not only gives financial support to numerous organizations, but she serves as a committed and passionate volunteer throughout the community."
A portrait of Eva Farris, painted by Thomas More graduate Taylor Stephenson '07, hangs on the entry wall of the Gallery. Ms. Stephenson is one of two Thomas More art graduates whose work was selected in a national competition to be displayed at Manifest Gallery in Cincinnati.
---
Gallery Hours
Monday – Friday: 8 a.m. – 4:30 p.m. | Saturday – Sunday: Closed
Special Holiday Hours may change this schedule. The Eva G. Farris Art Gallery is located on the entrance level of the Benedictine Library. For more information, call 859-344-3300.
For more information on degree programs focused on art that are offered at Thomas More University, CLICK HERE.