The Eva G. Farris Art Gallery is located in the Library Building of the Crestview Hills, Ky. campus of Thomas More University. Initially created to enrich the liberal arts experience at the University, The Gallery has become a leader in exhibiting local, regional and national contemporary artists and is one of the premier University galleries in Northern Kentucky.
For more information about current exhibitions, gallery talks, and lectures or if you are an artist interested in exhibiting in the gallery, please contact the Gallery Director Elizabeth Neal.
Portraiture and painting the human figure have always been of great interest to me as an artist. But my other passion is to learn more about the natural history of the eastern half of the United States. I am particularly interested in the relationship between humans and nature in a historical context. My work often combines human figures, landscape, plants and animals into a single painting. Each painting tells a compelling story about humanity's relationship with nature through the centuries. They also show how human activity has forever changed the natural ecosystems that sustain us. My work is carefully researched and based on historical fact. My goal as an artist is to create visually beautiful images that stand on their own as works of art yet impart to the viewer true stories from nature's past. Visit Holt's website here.
---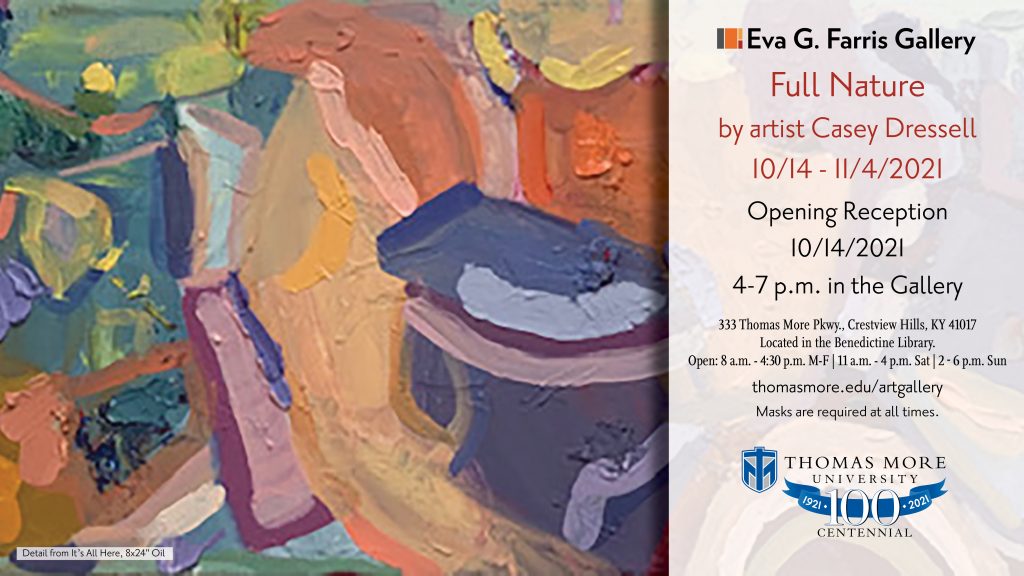 ---
Gallery History
On June 21, 2007, Thomas More University unveiled the naming of the new Art Gallery as the "Eva G. Farris Art Gallery."
"For some individuals, giving of their time and resources comes naturally. Eva Farris is one of these special individuals," said Sister Margaret Stallmeyer, former president of Thomas More University. "She not only gives financial support to numerous organizations, but she serves as a committed and passionate volunteer throughout the community."
A portrait of Eva Farris, painted by Thomas More graduate, Taylor Stephenson '07, hangs on the entry wall of the Gallery. Ms. Stephenson is one of two Thomas More art graduates whose work was selected in a national competition to be displayed at Manifest Gallery in Cincinnati.
---
Gallery Hours
Monday – Thursday: 8 a.m. – 8 p.m.
Friday – 8:00am – 4:00pm
Saturday – 10:00am – 4:00pm
Sunday – 2:00pm – 8:00pm
Special Holiday Hours may change this schedule. The Eva G. Farris Art Gallery is located on the entrance level of the Benedictine Library. For more information, call 859-344-3300.