The Eva G. Farris Art Gallery is located in the Benedictine Library on the Crestview Hills, Ky., campus of Thomas More University. Initially created to enrich the liberal arts experience at the University, the Gallery has become a leader in exhibiting local, regional, and national contemporary artists and is one of the premier University galleries in Northern Kentucky.
For more information about current exhibitions, gallery talks, and lectures or if you are an artist interested in exhibiting in the gallery, please contact the Gallery Director Elizabeth Neal.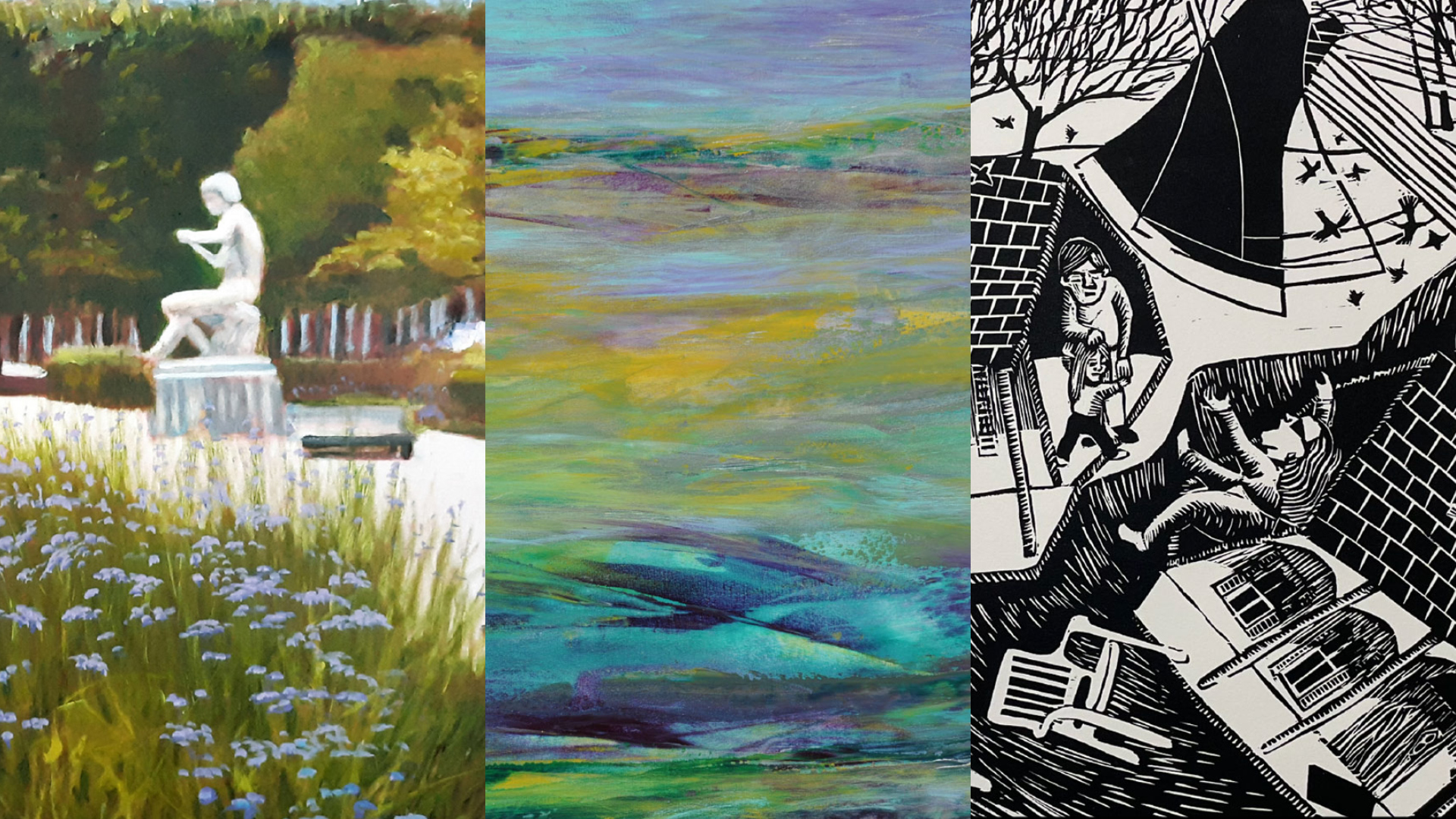 Upcoming Event: Summer Alumni Art Series
The Eva G. Farris Art Gallery welcomes three alumni who graduated in the '70s to the gallery for a diverse summer series. Join us for artwork by these amazing local artists.
First: Bill Eagen '72 with Landscapes and Cityscapes
May 5 – June 9, 2023 | Opening Reception – May 5, 5-7 p.m.
Second: Ruthe Wyman '76 presenting Layers Seen and Unseen Paintings
June 15 – 30, 2023 | Opening Reception – June 15, 5-7 p.m.
Third and final exhibition is Jennifer Baldwin '76 with Amerliorative Practice
July 7 – Aug 3, 2023 | Closing Reception – August 3, 5-7 p.m.
---
2023 Alumni Art Exhibition
Show was held Jan. 12 – Feb. 9, 2023
Thank you to the participating alumni artists. For photos of the show, CLICK HERE.

Sean Green '21
Nathan Klare '12
Jennifer Baldwin '76
Barbara Airhart Gronefeld '76
Richard Gronefeld '77
Cody Goodin '84
Jason Matheny '12
Rita Koehl Geiger '74
Andrew Christianson '21
Joseph Schmitz '19
Colette Oliver '79
Judith L. Stiens '66
Thomas J. Stiens '65
Tricia Kramer Noe '67
Karen Cress '16
Ruthe Wyman '76
Christopher Beiting '13
Anissa Bradley '22
Ian Gunn '16
Roger Schwartz '73
Bro. Don Smith, S.M. '56
Bill Eagen '72
Kenneth A. Reis '72
Madyson Haynes '21
Ximena Burton '05
Jacob Condon '16
Guadalupe Fernandez '16
Larry McKenney '69
David Klocke '96
Paul Robert Popovich '74
Heidi Toelke '75
Elizabeth Butler '22
Glenna Zimmerman Galbraith '74
Nicole Blanchard '19
Margie Hardebeck, '77
Bonita Williams Goldberg '88
Mick Goldberg '65
Michael Thompson '21
For any additional questions, please contact Gallery Director Liz Neal at neale@thomasmore.edu
_____________________________________
Gallery History
On June 21, 2007, Thomas More University unveiled the naming of the new Art Gallery as the "Eva G. Farris Art Gallery."
"For some individuals, giving of their time and resources comes naturally. Eva Farris is one of these special individuals," said Sister Margaret Stallmeyer, former president of Thomas More University. "She not only gives financial support to numerous organizations, but she serves as a committed and passionate volunteer throughout the community."
A portrait of Eva Farris, painted by Thomas More graduate Taylor Stephenson '07, hangs on the entry wall of the Gallery. Ms. Stephenson is one of two Thomas More art graduates whose work was selected in a national competition to be displayed at Manifest Gallery in Cincinnati.
---
Gallery Hours
Monday – Friday: 8 a.m. – 4:30 p.m. | Saturday – Sunday: Closed
Special Holiday Hours may change this schedule. The Eva G. Farris Art Gallery is located on the entrance level of the Benedictine Library. For more information, call 859-344-3300.
For more information on degree programs focused on art that are offered at Thomas More University, CLICK HERE.