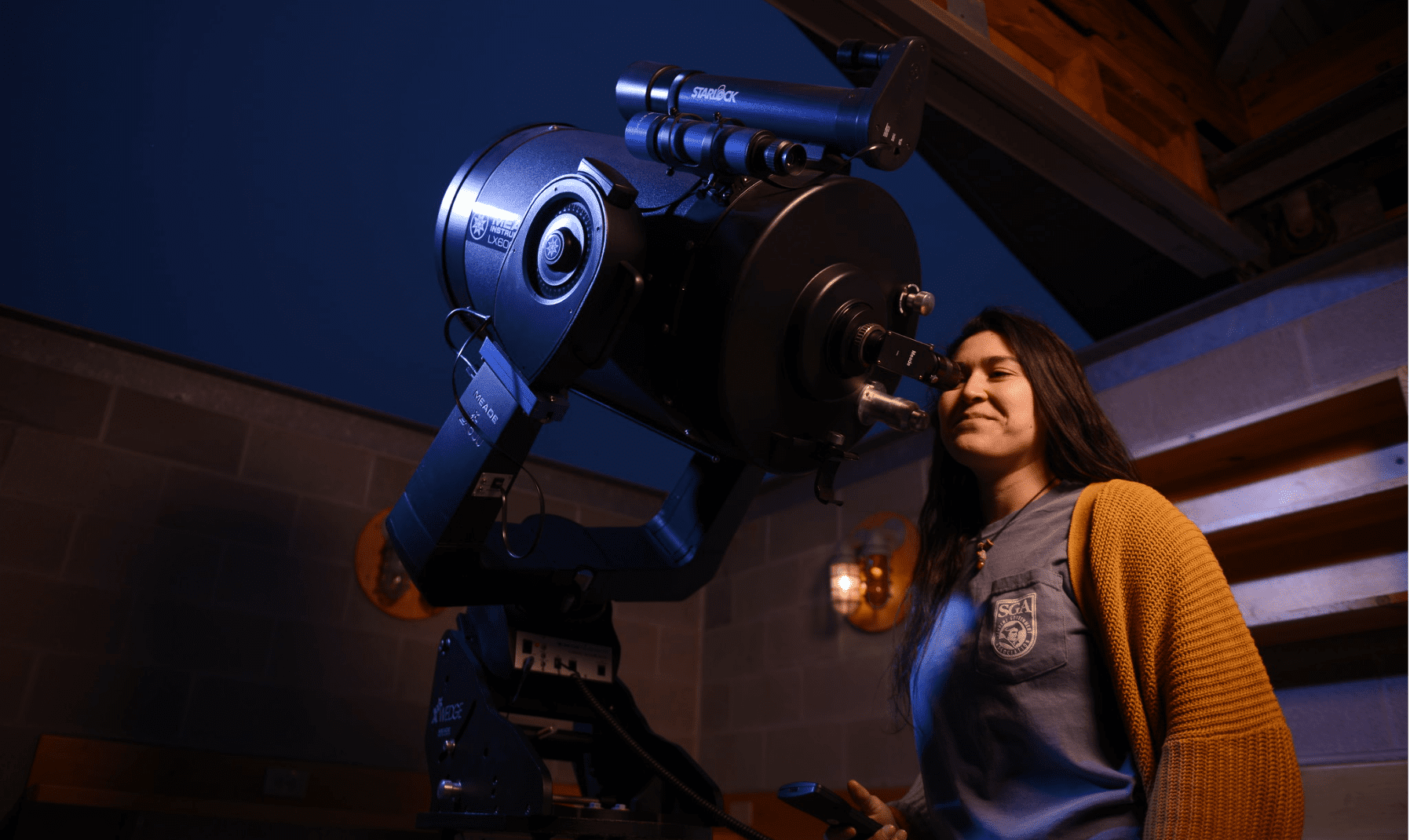 The Thomas More Observatory
The Thomas More Observatory is providing Thomas More students and the local community with a broadening glimpse into the wonders of our universe. The exciting frontiers of planets, stars, and faraway galaxies — and all the other distant wonders of the skies — are within reach of the state-of-the-art telescopes, cameras, and computers that comprise the Observatory facility.
Expanding Horizons
Students of all majors, researchers and all those interested in appreciating and understanding the worlds beyond ours, find the Observatory to be a mind-expanding resource. More than just a place, but a program of study and exploration, the Observatory opens the door to the Universe and brings knowledge of the heavenly skies closer than ever.
Under the direction of the Department of Mathematics and Physics, the Observatory has allowed the University to expand both its general educational opportunities in astronomy for all Thomas More students and research programs for those students interested in a more in-depth understanding of celestial objects and the equipment that allows astronomers to study them.
The Observatory also opens its doors to the local community, allowing everyone in the Greater Cincinnati area a chance to wonder and learn about the heavens.
The purchase of the telescopes and supporting equipment and construction of the Observatory was made possible through a grant from the National Science Foundation (NSF), a generous gift from BB&T, and personal gifts made by alumni and friends of Thomas More University. Additional equipment purchases were made possible via a gift from the Renaker Foundation.
For more information, please contact Dr. Wes Ryle, Department of Mathematics & Physics, at 859-344-3367.
Probing the skies
Located on the main campus of Thomas More University, the Observatory offers the opportunity for the physics program to sharpen its focus on the enlightening world of astronomy. The Observatory features computer-controlled telescopes, CCD digital imaging camera systems, and telescope-dedicated computer systems. The Observatory building incorporates a sliding roof that opens to the stars and a climate-controlled computer room, allowing observers to remain comfortable while they pursue celestial observation projects even during the coldest winter nights.