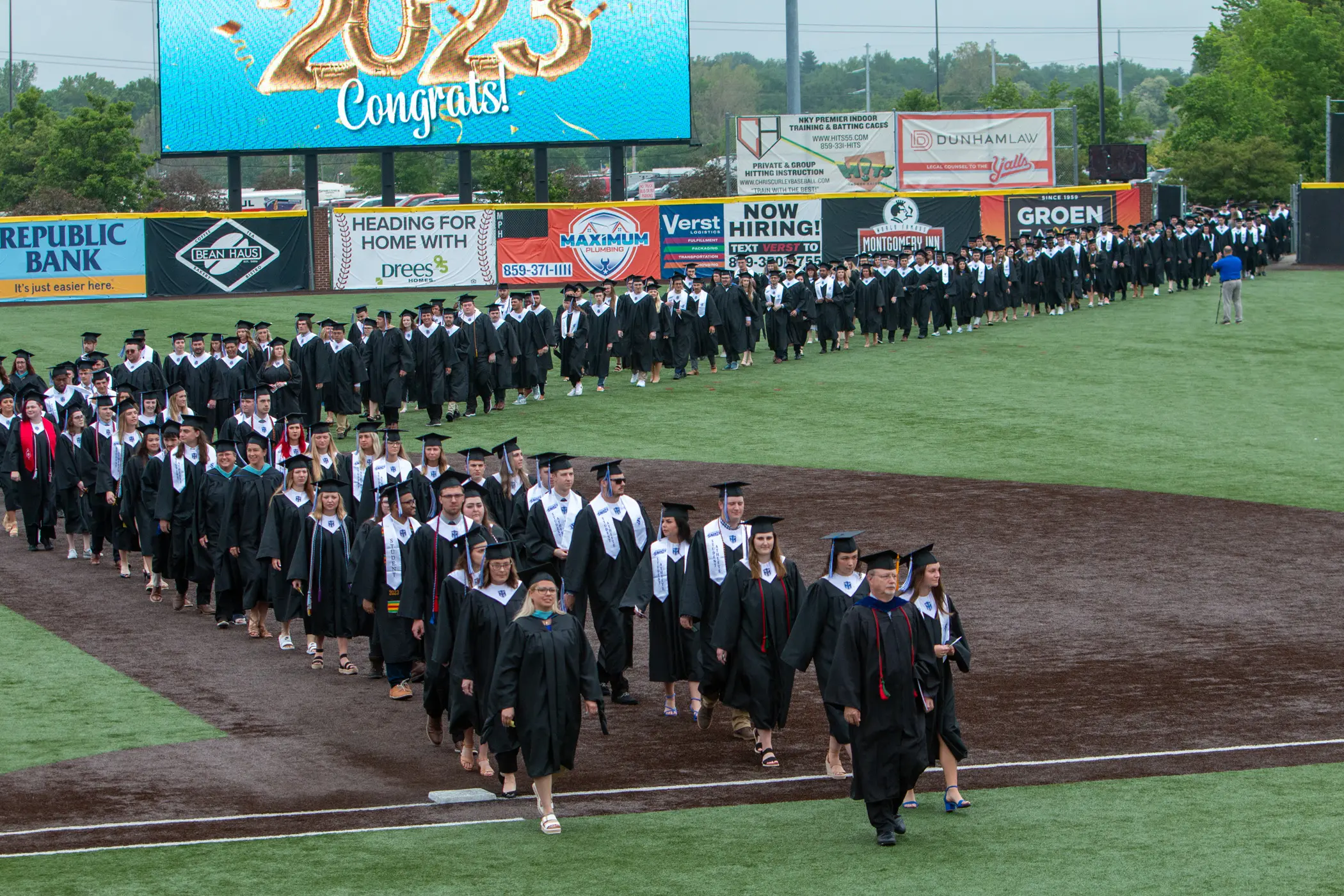 96th Annual Commencement Information
RSVP To Commencement
Click Here to RSVP to the Commencement Ceremony.
Deadline to RSVP: Thursday, Feb. 22, 2024
Order Your Cap and Gown
Click Here to order your cap and gown.
Deadline to order: Thursday, Feb. 22, 2024
Countdown to Commencement
Thursday, April 4, 2024
3 to 7 p.m.
Open House
Steigerwald Hall, Saints Center
Thomas More University Campus
Baccalaureate Mass
Friday, May 10, 2024
2 p.m.
(Students arrive by 1:30 p.m. for line up in the Administration Building)
Mary, Seat of Wisdom Chapel
Thomas More University Campus

Graduating students and their families of all faiths celebrated at the Baccalaureate Mass with the Bishop of Diocese of Covington, the administration, faculty, and staff in Mary, Seat of Wisdom Chapel. As part of the Catholic Intellectual Tradition, the Baccalaureate ceremony is a service of worship in celebration of and thanksgiving for lives dedicated to learning and wisdom. More detailed instructions will be posted soon.
Awards Celebration and Hooding Ceremony
Friday, May 10, 2024
3:30 p.m.
Saints Center
Thomas More University Campus
Following the Baccalaureate Mass, students will be invited to receive awards from their college. Students earning their master's degree will be invited to be hooded by their department which is a tradition when earning a master's degree. Lite refreshments will be available after the Awards Celebration and Hooding Ceremony.

Commencement Ceremony
Saturday, May 11, 2024
9:30 a.m.
(Students arrive by 8:30 a.m. for line up.)
Thomas More Stadium
7950 Freedom Way
Florence, Kentucky 41042

More detailed instructions will be posted soon.

---
95th Annual Commencement Student Photos

Photos were taken of each student with the president and individually by You See Photography, Inc.
Students will receive an email and a letter with information about the picture proofs.
Photographer Contact Information
You See Photography, Inc.
Dianne Bomer
(513) 677-6403
DianneBomar@thenewstudio.net
Thomas More University 95th Annual Commencement
Moreover Photo Galleries
Gallery 1
Gallery 2
Gallery 3
Gallery 4
To read the press release for the Class of 2023, CLICK HERE
To view a playlist of addresses during the ceremony, CLICK HERE
Countdown to Commencement Photo Gallery
Click Here


---
Congratulations!
I hope you realize the remarkable achievement of becoming a graduate. There is no doubt that Thomas More University has prepared you well to examine the ultimate meaning of life, your place in the world, and your responsibility to others. Commencement marks the opportunity for us to celebrate your notable achievement and it signifies that you have met all of the requirements for graduation. As you walk across the stage today, walk slowly, taking it all in and realizing that this graduation is a defining moment for both you and your family.
Commencement is always one of my favorite academic traditions. My graduation day was one I'll never forget. The sense of achievement and gratitude I felt as I walked across the stage that day was unsurpassed. I hope each of you are feeling the same, knowing that this community is proud of you and excited for the future you are going to pave with your new, well-earned degree. As you go out into the world, serving as great leaders in your future endeavors, I know that you will succeed because of the education and Saints Experience you've received here at Thomas More. You have made an impact on this campus, and now you are equipped to make an impact in our community and world.
During your years at Thomas More, and especially throughout the past year, you have demonstrated a strong spirit of adaptability, and I am confident that the challenges we have faced together as a campus community will serve you well in your careers and personal lives. I encourage you to continue to inspire, be a trailblazer, and most importantly, stand up for what you believe in as did our patron saint Sir Thomas More. You will make a difference and you will always be a Saint.
I am proud of you and congratulate you on this accomplishment today.
God bless,
Joseph L. Chillo, LP.D.