"Our Responsibility to Others"
Friday, March 15, 2024

Campus Map

Join Thomas More University for a one-day, interactive conference on campus designed to enlighten, engage and challenge women to seek more within their lives and careers. The 2024 Women's Conference explores the topic of "Responsibility to Others" within different sectors. This conference will inspire audience members of various ages and professions to reflect on the university's core tenant of responsibility to others and what it means in our individual lives.
This conference is designed for alumni, college students, faculty/staff, parents, high school students, and community members.
*While women are the primary constituent group, men are invited to attend.
Steigerwald Hall
Saints Center, 333 Thomas More Parkway
Crestview Hills, KY 41017

Tentative Schedule of Day
8- 8:55 a.m.- check in/breakfast/networking
9- 9:50- Keynote
10- 10:45- Speaker
11- 11:45- Speaker
12- 1 p.m. – Panel Session/Lunch
1:15- 1:30- Conclusion and Networking
---
Speakers
TBA
Registration
RSVP Deadline: February 2024
Sponsorship Opportunities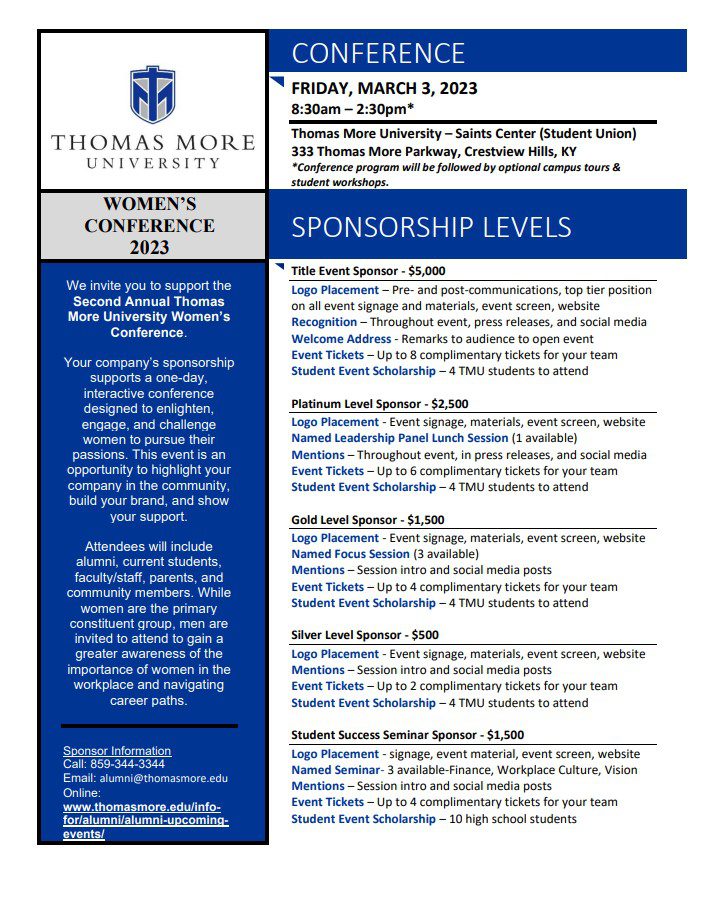 Please consider supporting this excellent day of professional development and alumnae success by becoming a sponsor. {Embed clickable PDF image of levels here, is attached}. For more details on becoming a sponsorship, please click here: 
2023-2024 Academic Year
Women Who Innovate: March 3, 2022
Opening Keynote Speaker- Jeni Al Bahrani, Inaugural Director of Zembrodt Center for Entrepreneurship and Innovation, Thomas More University – "Women Who Inspire Us Through Innovation"
D. Lynn Meyer | Producing Artistic Director, Ensemble Theatre Cincinnati – Innovating Around the Detours
Suzi Franceis |
Lunch and Leadership Panel

Moderator: Judith Marlowe, Ph.D. ('69), Chair of the Thomas More University Board of Trustees
Kim Halbauer ('00), President, Kentucky Region; Fifth Third Bank
Vashti Chatman ('23), Global Chief Human Resources Officer, Big Village
Sue Ellen Stuebing ('84), Vice President/Chief Development Officer, CET/Think TV

Jill Morenz | CEO, Aviatra Accelerators

2022-2023 Academic Year
Inaugural Conference: March 4, 2022
Opening Keynote Speaker- Kathrine Nero | Social Media Host/Reporter | Enquirer Media
Finding Yourself

Becca Gardner | Founder and CEO | ALT Distilling
Angela Rivers-Harper | Programs Director | Dress for Success
SELF-DEFENSE MASTERCLASS: Latorria Myles | Assistant Dean of Students | Thomas More University
Breaking Through

Heather Ackels '07 | Executive Director | INTERalliance
Jenni Crowley '03 | Senior Manager | Deloitte
Boss Lady: A Panel of High-Power Leaders.

Moderator- Dr. Laura Koehl '80, Executive Director, SND USA National Sponsorship and Network Office
Moira Weir '00 | President and CEO| United Way of Greater Cincinnati
Rachael Sampson '20 | SVP, Director of Key4Women | KeyBank
Priya Dhingra Klocek | President and CEO | Consultant on the Go
Amy Spiller | President | Duke Energy