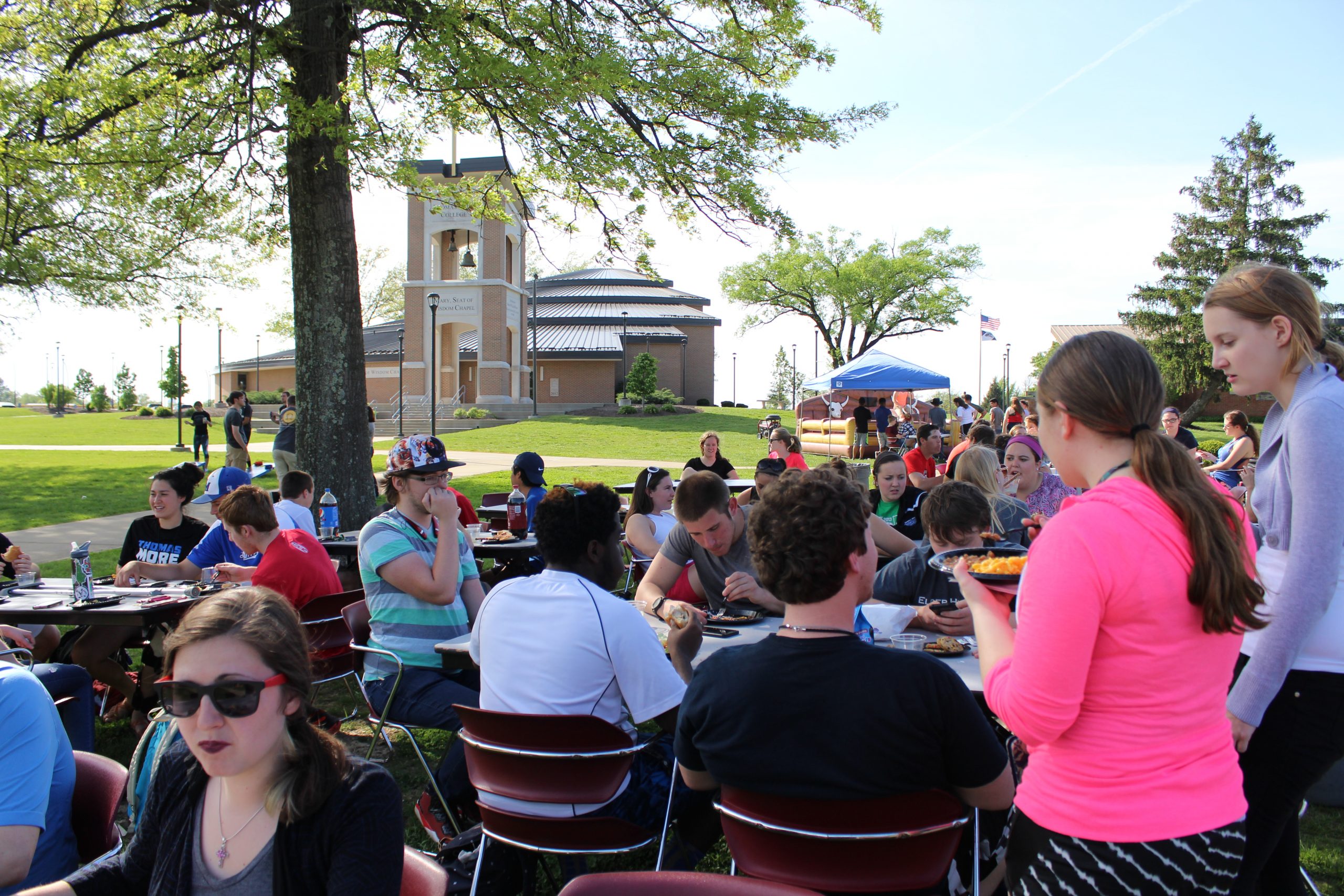 Why Thomas More University?
About Thomas More University
Thomas More University is a Catholic, co-educational, liberal arts institution. Since it's founding in 1921 as Villa Madonna College, Thomas More University has provided its students an educational experience of the highest quality, offering a combination of educational, social, spiritual services and life experiences.
Facilities to Fit Your Needs
Thomas More University can help plan your next event, conference, workshop or celebration. From large elegant affairs to high tech meetings, Thomas More offers a variety of accommodations to meet your needs.
Banquet Hall
Large Dinners
Professional Meeting Rooms
Corporate Events
Conferences
Workshops
Classrooms
Chapel
Residence Halls
Gymnasium
Athletic Fields & Grounds
Convenient Location

Thomas More University offers a 100-acre campus ideally located in beautiful Crestview Hills, Kentucky, just 10 minutes from downtown Cincinnati, and the Greater Cincinnati International Airport. This region of the country is accessible via automobile to much of the Midwest and southern United States.
Food And Catering Services
Aramark Food Services is a leader in professional services, providing award-winning food services, facilities management, and uniform and career apparel to health care institutions, universities and school districts, stadiums and arenas, and businesses around the world. The catering staff looks forward to working with your organization to provide quality products and services to make your event a success.
Residence Halls
Residence halls are available if overnight accommodations are desired. Murphy Hall, a 160-bed suite-style residence hall offers all the comforts needed including central air conditioning, internet, cable and television access, private bathrooms in each room, free laundry facilities and 24-hour security.
Traditional style dorm living is also available in Howard, Marian, and Ackerman Halls. Single and double rooms are available with community-style bathroom and shower facilities, central air conditioning, internet, cable and television access, free laundry facilities and 24-hour security.
The Republic Bank Field
Thomas More University has a long history and strong reputation for athletic excellence in both men's and women's sports. Thomas More's NAIA teams regularly compete in post-season play and rank high in national standings. In order to grow the athletic programs, as well as offer our facilities for use to the community, Thomas More is enhancing the current athletic facilities. Features of the field include:
Synthetic turf field & track
Concession stand and restrooms
2,500 seat bleacher/grandstand
Field lighting and new sound system
Entrance gates and plazas
Two-level press box
New scoreboard
Mary, Seat of Wisdom Chapel
Persons wishing to reserve the Mary, Seat of Wisdom Chapel for their wedding, please first read our Wedding Reservation Guidelines. If you have any questions, please email events@thomasmore.edu.
Biology Field Station and Lodge
The Biology Field Station, located in California, Ky., is the only facility of its kind on the entire 981-mile stretch of the Ohio River. The location includes state-of-the-art labs and classrooms in the renovated lock house, a separate STEM outreach center, outdoor classroom, educational trails, and LEED certified lodge with overnight accommodations. If you are interested in STEM field trips and tours (available for K-12 students as well as other groups), CLICK HERE . If you are interested in planning a stay at the Lodge, CLICK HERE. For all other requests, please contact Chris Lorentz, Ph.D., Director of the Biology Field Station at 859-344-3373, Lorentc@thomasmore.edu or Tess Mulrey, STEM Outreach Coordinator at mulreyt@thomasmore.edu.