Learn to serve, thrive, and launch a successful career
One of the key advantages of a small, liberal arts institution is the opportunity to know your professors more deeply as scholars, mentors, and friends. Another is that most of our nursing students find that their classmates become their best study partners as well as lasting friends. Over and over, we get the same reaction from graduate schools and employers: Thomas More alumni are incredibly prepared and well-rounded.
Explore the Thomas More Bachelor of Science (BSN) in Nursing program where we help our students harness their talent and ability ethically and in service to humanity.
Meet the people
you'll be learning from.
Most of our professors are seasoned instructors with lengthy careers in the nursing profession. Many maintain employment within the profession so their knowledge and techniques stay up-to-date. In addition, we have clinical adjuncts employed in clinical settings who supervise our students. These adjuncts have a thorough understanding of the processes and procedures that are unique to their unit/institution.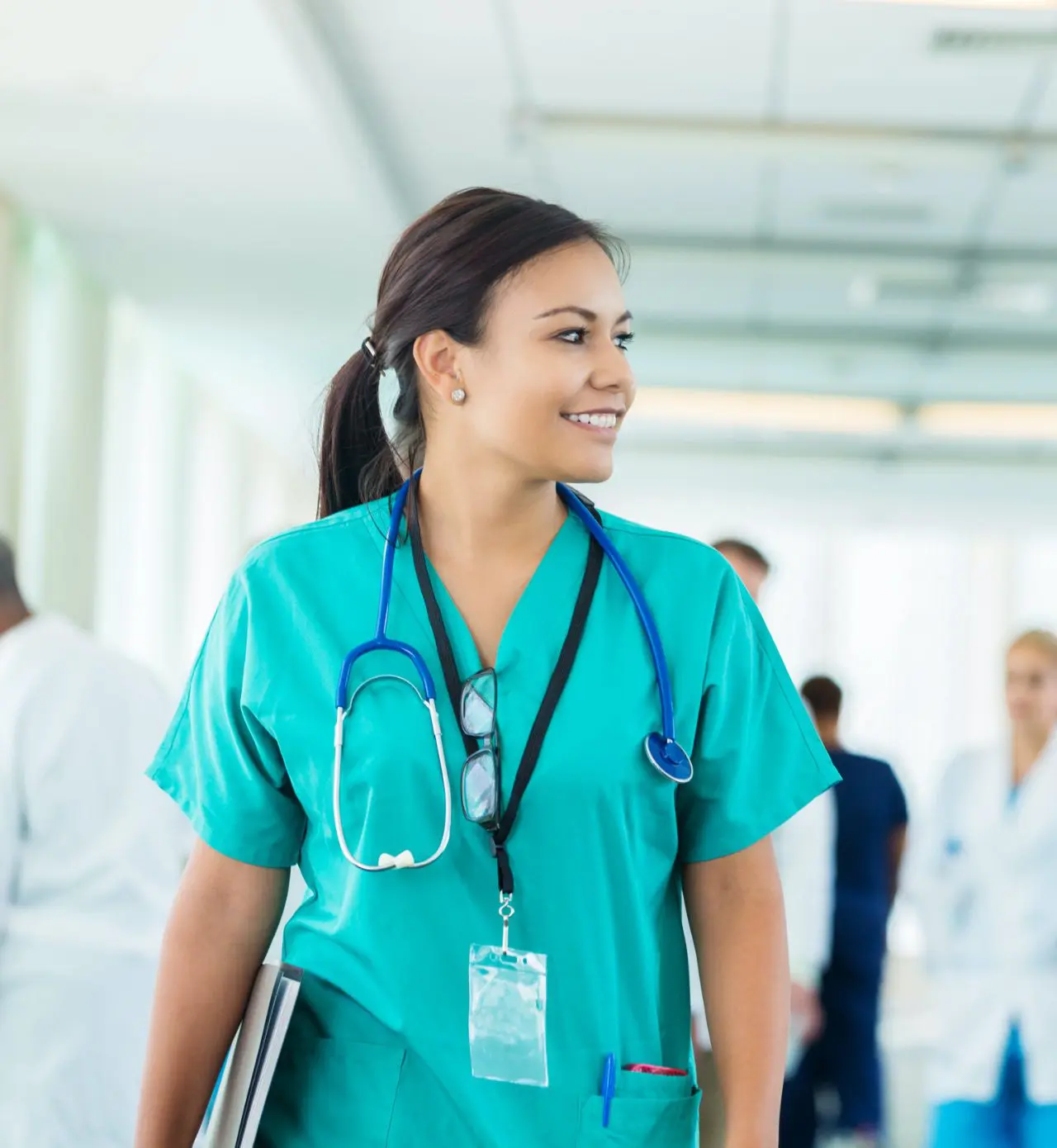 With a nursing degree from Thomas More, your career options are wide open.
From hospitals to the military, private practices, schools, community centers, and corporations, it's easy to find a multitude of career options in nursing. You can serve in a variety of professional settings and live and work nearly anywhere.
Bedside Nurse
Clinical Specialist
Educator
Healthcare Administrator
Emergency Room Nurse
Operating Room Nurse
Researcher
Critical Care
Community Health Nurse
In-home Health Care
Hospice
Our graduation rates are outstanding. Our students complete the nursing program faster than the national benchmark.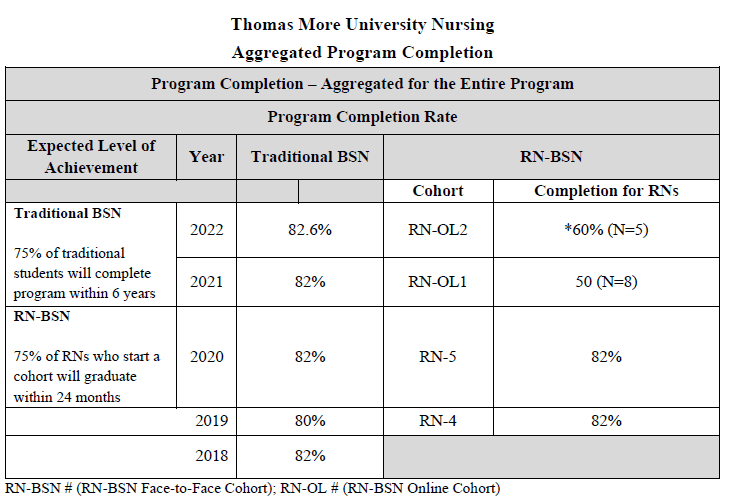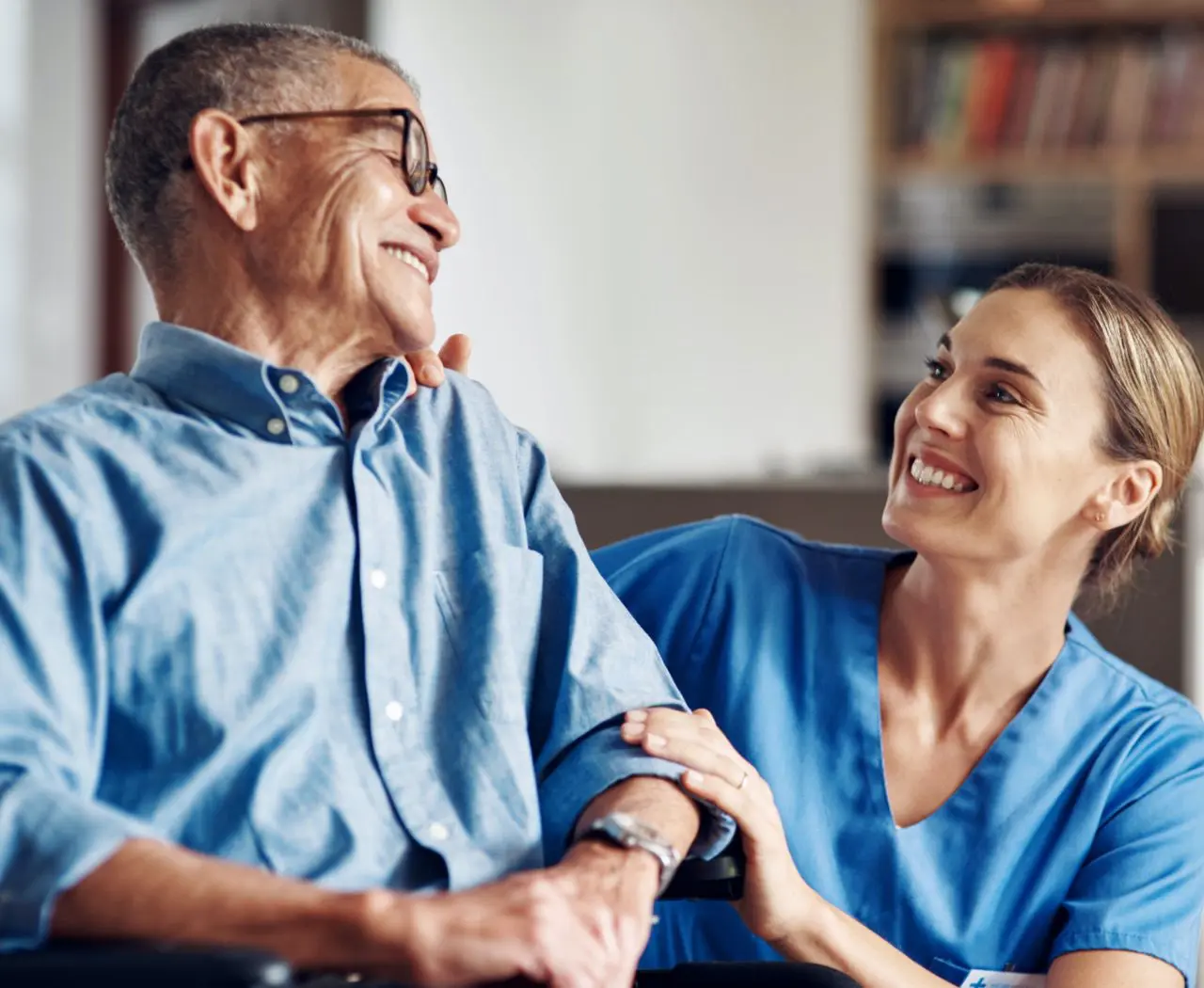 Thomas More nursing graduates are thriving.
Most of our graduates end up working in one of the institutions where they did their clinical experience.
About half of our graduates pursue advanced degrees within 5 years of graduation, a majority of them within the Tri-State.
100% of graduating nursing students passed the NCLEX exam.
PayScale estimates an average salary for nurses with a BSN at $84K per year, while the salary average for RNs is $66k per year.  A potential of an $18k per year increase in salary is worth the investment.
You will have increased job opportunities because many hospitals, especially those with magnet status, require a bachelor's degree in nursing.
The baccalaureate nursing program at Thomas More University located in Crestview Hills, KY 41042 is accredited by the: Accreditation Commission for Education in Nursing (ACEN) 3390 Peachtree Road NE, Suite 1400 Atlanta, GA 30326(404) 975-5000. The most recent accreditation decision made by the ACEN Board of Commissioners for the baccalaureate nursing program is Continuing Accreditation.
In addition, the baccalaureate nursing program is approved by the: Kentucky Board of Nursing (KBN)312 Whittington Parkway, Suite 300 Louisville, KY 402221-502-429-3300
"Thomas More University really made sense for me not only because of the culture and curriculum, but also for the overall cost."

Rachel Blankenship '22