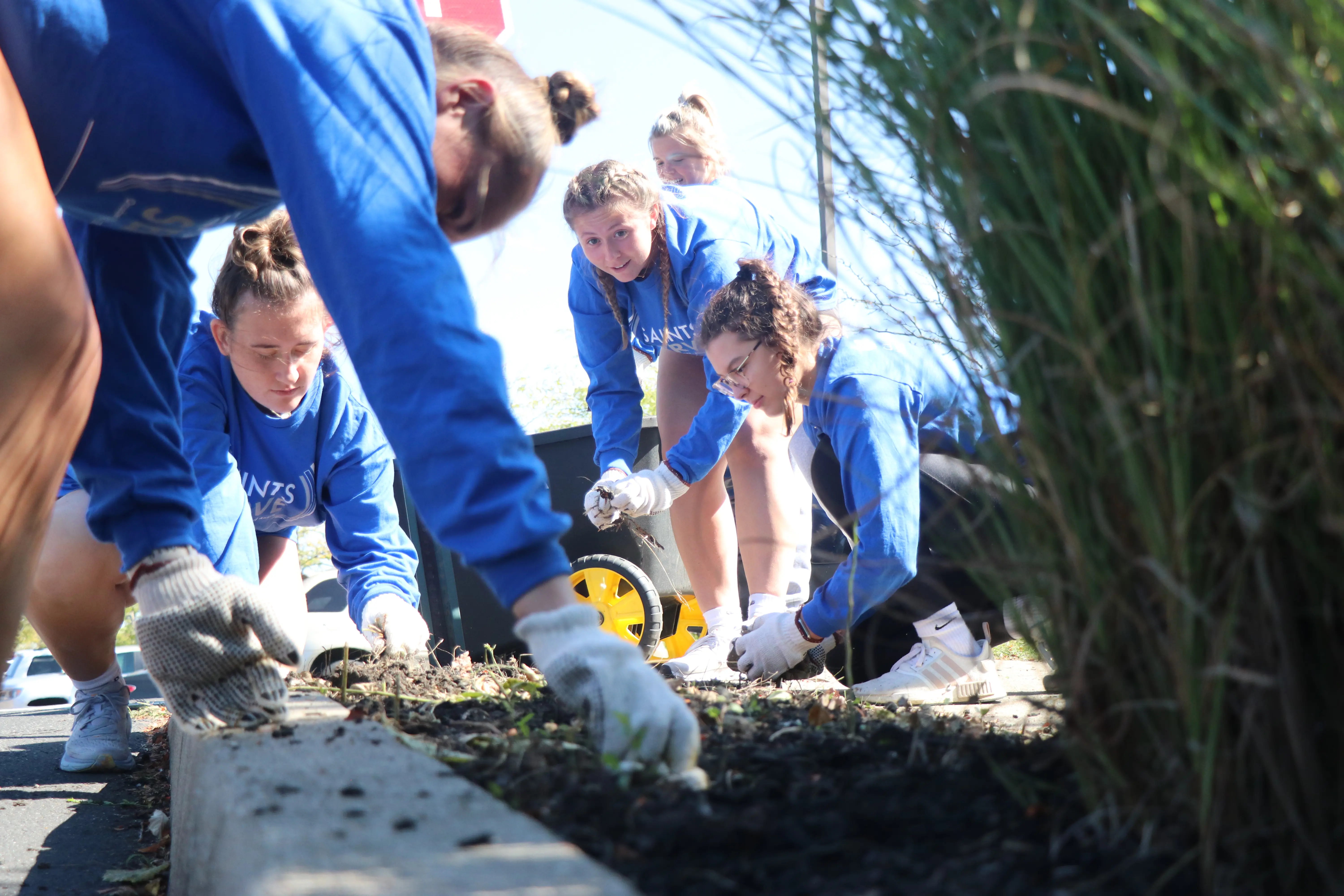 Sister Margaret Stayllmeyer Hall
Sister Margaret Stayllmeyer Hall is the newest addition to the residence hall system. Opening in Fall 2018, this traditional-style residence hall can house up to 96 students. The first floor is co-ed by wing. On the second floor, both wings are made up of women and on the third floor, both wings are made up of men. A double room will have: 2 beds, 2 desks, 2 chairs, 4 two drawer dressers, and 2 built in closet spaces). The residents of each wing will share 4 semi-private full size (sink, toilet, shower) bathrooms. Residents of each floor will share a full kitchen and a common living area. The resident rooms have tile flooring.
Meal Plan Options
All resident students of Thomas More University are required to participate in a meal plan.
All first year residents are required to purchase either the All Access or 14-meal plan. All other residents are required to purchase a meal plan of their choice for each semester.
Flex dollars can be used at any on-campus food service facility, including The Interlude Cafe in the Saints Center. Unused flex cash from the fall semester is applied to the spring, but is not refundable at the end of the academic year.
Any questions or suggestions – menus or any special dietary requirements students might have – should be brought to the attention of the campus Food Service Director. More information about meal plans can be found at the Campus Dining Web Site. All freshman resident students are required to purchase either the All Access or 14-meal plan. All other resident students are required to purchase a meal plan of their choice for each semester.
| | |
| --- | --- |
| Plan Type | Rate |
| All Access Plan with $100 flex dollars | $2,550 |
| Weekly 14 meals with $150 flex dollars | $2,170 |
| Weekly 10 meals with $150 flex dollars | $1,840 |
Commuter meal plans can be purchased online. For further details on meal plans, contact the Food Service Office at 859-344-3317.
It is a very exciting time to live here and there are many exciting changes coming in the near future. The first step in living on campus is filling out the housing application.
All students who will be under 60 credit hours at the end of the spring 2021 term of the Thomas More University residency requirement that requires them to live on campus. This applies to all traditional, undergraduate students, regardless of previous exemptions from this policy.
Once the housing application is completed, please also provide the following: Student Health Form, Tuberculosis screening, and a copy of immunization records. These forms can be found under "Apps & Forms" in the housing portal. Please upload the immunization records into the Student Health Form or fax the records to the campus nurse at 859-344-3636. Room selection will begin in mid-March. Please contact Assistant Dean of Students Tori Myles at mylest@thomasmore.edu with questions.
Students who live at home with their parents/legal guardians in their primary residence in one of the following counties could qualify to be exempt:
Kentucky: Boone, Campbell, Kenton,
Ohio: Hamilton, Clermont
In addition, the following conditions could qualify a student to be exempt:
21 years of age or older
Married
Parent with custodial responsibilities
Part-time student (taking less than 9 credit hours a semester)
Extenuating health and medical circumstances
If students would like to be considered for an exemption based on these criteria, please complete the Housing Verificaton Form. You can also access the housing verification form by by logging into MyTMU, click on "resources" and then click on the "housing" tab on the left.
For housing or dining questions, please contact the Residence Life Department at 859-344-3544 or by email at housing@thomasmore.edu. Visit in person in the Student Life Hallway of the Thomas More Main Administration Building.